Are you wondering what a chemical peel is and whether it is the right treatment option for you? While the term chemical peel may sound daunting, this is a safe medical spa procedure that can give you smoother, softer skin among other amazing benefits.
To learn more about chemical peels, keep reading.
What is a Chemical Peel and What Does It Do?
A chemical peel is an in-office procedure carried out by a certified dermatologist in which chemical solutions and agents are applied to the skin.
The top layer of the skin will then eventually peel off, allowing for a layer of softer and smoother skin to become visible. These peels are usually done on the face, hands, or neck.
The overall goal of a chemical peel is to improve the appearance of the skin in the areas it is applied to. The peels are typically made from chemicals such as lactic acid and salicylic acid.
There are three types of chemical peels: superficial, medium, and deep peel.
A superficial peel uses a mild acid to penetrate the top layer of the skin to treat slight discoloration or rough skin. It is sometimes referred to as a lunchtime peel. In a medium peel, the layers of the skin are exfoliated using acids to treat wrinkles, age spots, and discoloration.
In a deep peel, acids are used to deeply penetrate not only the outer layers but also the middle layers of the skin. They can have a great impact on the skin, and can often treat scars, age spots, and freckles. When done by a trusted professional these treatments are very safe but before and after instructions must be followed for the best results.
What to Expect: Before, During, and After a Chemical Peel
Before your chemical peel, you will meet with your specialist for a consultation. You may not be a good candidate for a chemical peel if you have taken certain medications for acne, are prone to cold sores, or have abnormal skin pigmentation. These peels tend to be best for those with fair skin, as those with darker skin are more likely to have uneven skin tones after the treatment.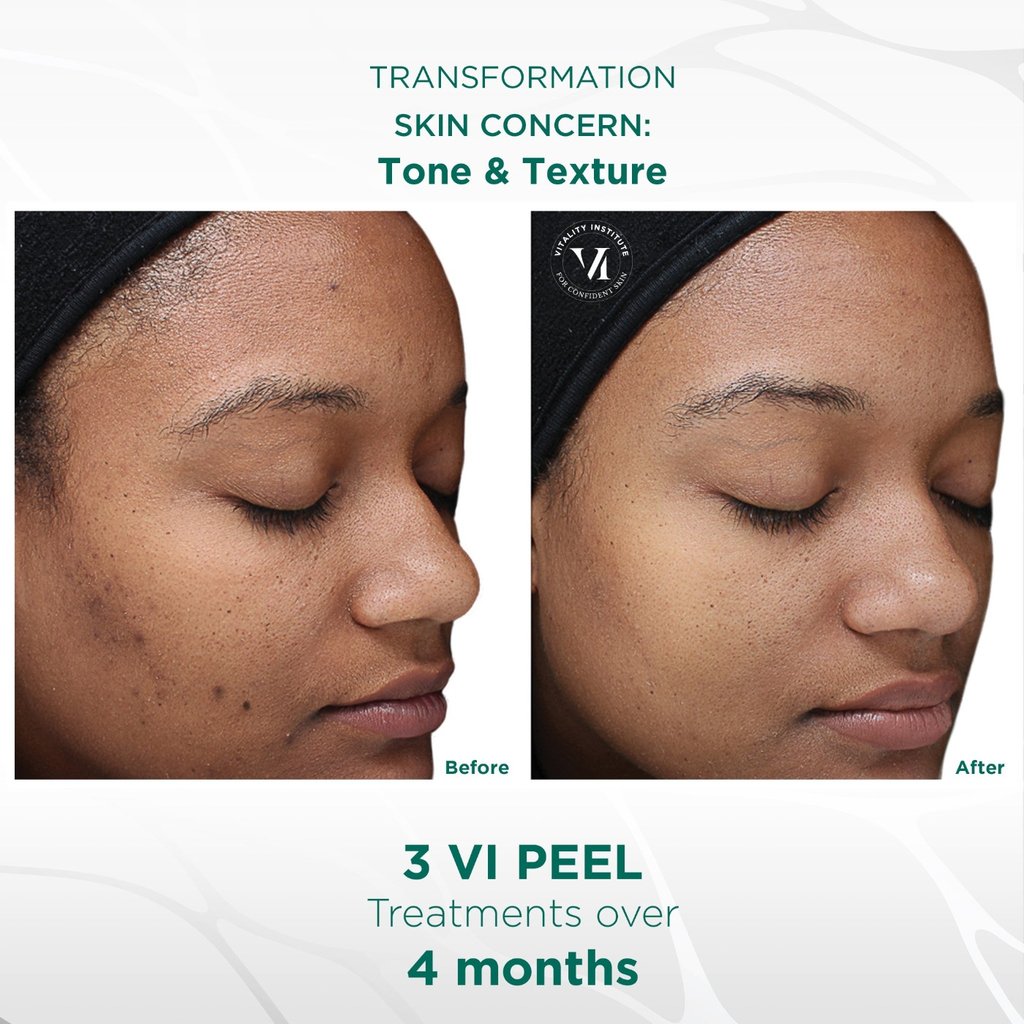 You should avoid scrubbing, waxing, bleaches, and massage treatments a week before the procedure. When you arrive for your treatment, the specialist will wash your face and cover your eyes and hair. There is no need for painkillers for light chemical peels, but for medium peels, you may be given a sedative. For a deep peel, you will be given local anesthesia.
A peeling solution will be applied to the area of choice for a set time and will be followed by a neutralizing solution. While the solution is on, you may feel a slight burning sensation.
Most often chemical peels will include glycolic, salicylic, and beta hydroxy acids, combined with herbal ingredients like green tea and pomegranate enzymes. The popular Vi Peel contains TCA 12% (Trichloroacetic Acid), Tretinoin Acid 0.1%, Salicylic Acid 12%, Phenol 12%, Vitamin C, and a mineral blend.
What should you do after a chemical peel?
The specialist will likely prescribe pain medication and ice compressors for pain relief after your peel. It's important to note that after a chemical peel, your skin is much more sensitive to the sun and can be prone to sun damage. You should protect your dry skin with a broad-spectrum sunscreen of SPF 30 or higher.
You should limit your exposure to sun rays for the first week or so. You may notice redness or flaking in the treated area for up to a week after the procedure. You may notice some peeling in the first day or so after your treatment.
It's important not to itch, pick, or peel at sensitive skin. Using a good moisturizer can work to give this fresh layer of skin the hydration it needs. Additionally, if you are experiencing stinging from a deeper treatment, protective ointments like petroleum jelly can help to soothe the treated area.
For lighter home chemical peels, it may be safe to apply makeup to the treated area as soon as the next day. For deeper peels, one should wait to apply makeup for at least a week.
What are the Benefits of a Chemical Peel?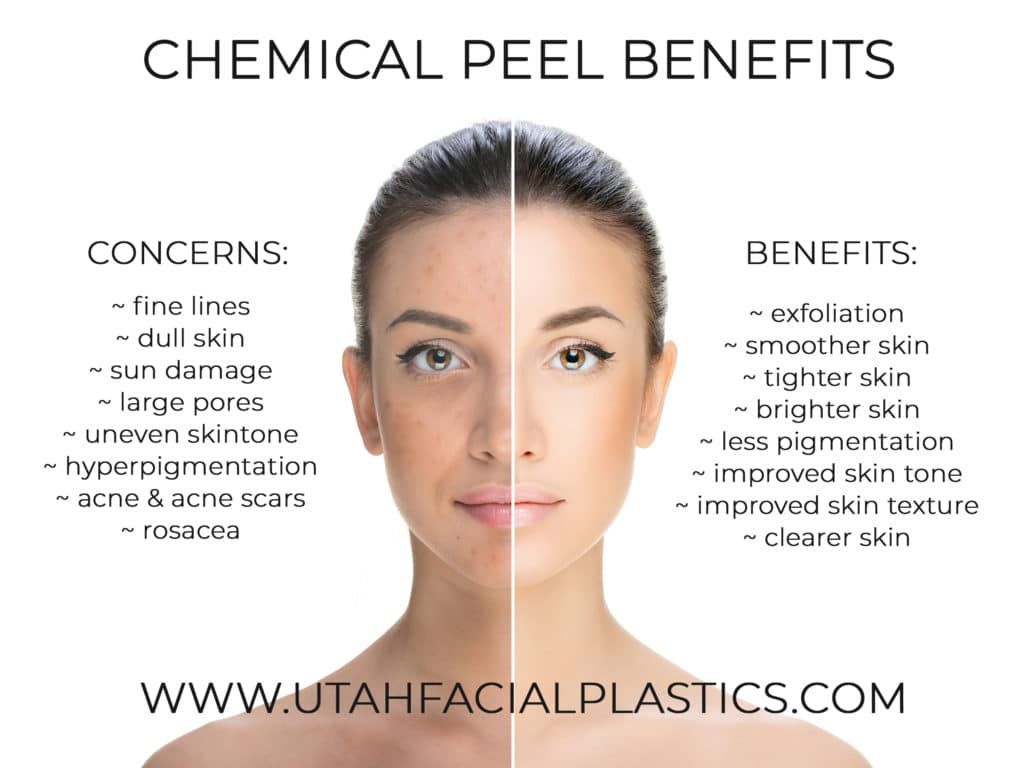 Chemical peels work to exfoliate the skin and remove dead skin cells. They are also used to reduce fine lines in areas around the eyes and mouth. Additionally, they can address blemishes caused by sun damage such as wrinkles and sunspots.
How Long Does a Chemical Peel Last
A chemical peel has permanent results on your skin, however, the anti-aging fight is a continuous one, so maintaining your results with regular treatments is key.
The procedure can work to strip away age spots, acne scars, dark patches, freckles, and melasma. Chemical peels can benefit those of any age, from those in their 20s and up. They are not only used for aging skin, and it is thought that doing regular chemical peels in your 20s and 30s can make for fresher skin in your later years.
Overall, this treatment option aids in skin exfoliation to encourage skin cell turnover. This can work to unclog pores, fade blackheads, and reduce sebum production. Results are nearly immediate, and you may see brighter and smoother-looking skin directly after your first treatment.
Are Chemical Peels Worth The Money?
If you are looking for fresher, smoother, and brighter skin, a chemical peel may be a great solution for you. This is a safe, quick, and cost-effective skin treatment that can improve the appearance of the skin in many different ways. On average a chemical peel will cost around $300 per session.
Now that you know the answer to what is a chemical peel, you can make an appointment with a trusted chemical peel specialist to safely improve the appearance of your skin.
Are you looking for a chemical peel specialist in Miami? If so, contact your local MedSpa today.
Miami Skin Spa offers what is considered by many to be the best chemical peel, the Vi Peel. It is a quick and easy treatment option with little to no downtime that works great for many skin types.